For the last 2 years, I have spent the last week of April and the first week of May in the hospital.
In 2014, I was in the hospital trying to save the life of my unborn 22-week baby. My cervix was too weak to hold her. My doctor was frantically trying to get two different NICU hospitals to accept me. They both refused, as my baby was not considered viable outside the womb if she was born. 24 weeks gestation is the magic number in New York. Inevitably, our angel Taylor was born May 04, 2014 at 4:21 p.m. I was thankful that I was completely medicated! I was able to experience the whole birthing process while being emotionally numb. For I thought I would never have this experience again. The nursing staff performed the "normal" routine. The difference was an added phone call to the local funeral home and a memento box given to us. They had taken Taylor from our room as all babies are for the initial checkup. When they brought Taylor back to us she was wrapped in a beautiful gown and matching blanket that some unknown caring person made. After some time our precious daughter was placed in the hands of the funeral director who promised to take very good care of her. Members of our church came and prayed with us and flowers were delivered, kind words were spoken but I was numb.
As the night closed in a shrill cry of new life echoed into my room. As my nurse rushed in my room to close my door to shield me from the sounds, I asked if it was a boy or girl. Sheepishly she answered "girl". I asked "healthy?" She nodded as she slowly closed the door. I got up from my bed and reopened the door. I wanted to hear that baby cry, I wanted to hear the miraculous sounds of new life! I was relieved that this new mother did not have to endure the pain of having to make arrangements to bury her baby on Mother's Day. I later walked the halls trying to get a glimpse of the baby but once again, the staff had placed a shield before me by closing the blinds to the nursery.
Later that night I could not sleep starring at the flowers I had to do something. I got up and took the arrangements apart and made a new one. I got paper from the staff and wrote a letter to the new mom. I told her to never forget what a precious gift she received tonight and a few other words of congratulations. I asked my disbelieving nurse to give them to the new mom. She could not understand how in my time of pain I was trying to share happiness with another. I finally had a God given peace over me and was able to sleep. I was later told that the mom was alone and needed the words of encouragement.
Last year I spent the same time-frame in another hospital. I was trying to keep my rainbow baby (baby born after a loss) Skyler inside me. This time I was 26 weeks along. I was getting steroids to strengthen her lungs in case she came early. Even with my cervix sewn closed, it was a very real possibility. I was right next door to the NICU this time. My Miracle baby was born at 38 weeks and healthy. She ripped from inside me fast and unmediated. I was in a lot of pain with 32 stitches afterwards. As my husband, likes to say it took us 15 years to get back together, 5 years of our struggles and endured 13 losses to finally have our miracle baby!
This year I will "celebrate" one child's 2
nd
angelversary while I hold another in my arms with another's hand in mine (stepson). The loss of a child is never lessened by the birth of another. If anything it intensifies Taylor's presence all around me. As I watch my children play I constantly wonder what would my angel look like, what amazing things would she be doing? I also grieve not just her loss but the loss of the experiences of and with her. I wonder daily what my life would be like if I had Taylor, Skyler's lost twin, Skyler, My stepsons and all 11 of my lost pregnancies. How different would my life be? How different would I be? Who would I be?
Warm Wishes to You and Yours
Deb
If you enjoyed reading this post click on the logo below to show your appreciation.
Other Place I can Be Found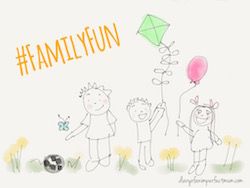 Awards for This Post